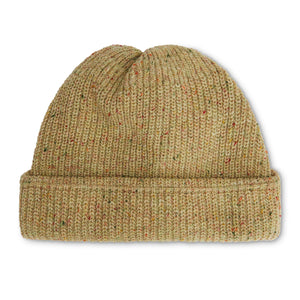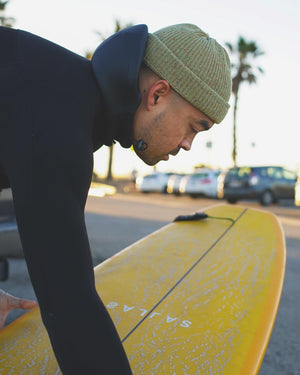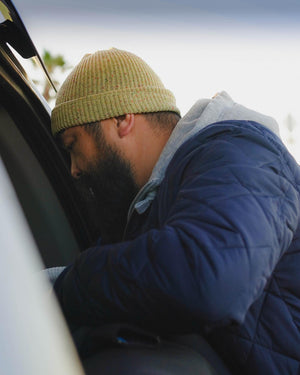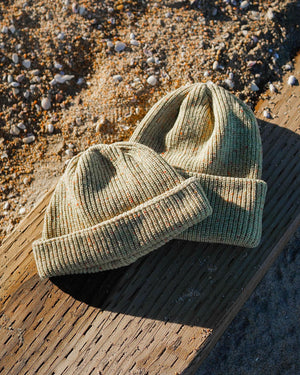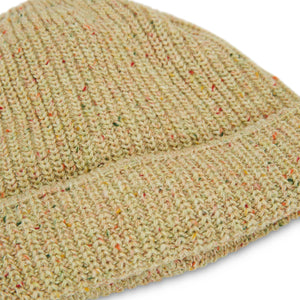 Pilgrim Surf + Supply Cashmere & Lambswool Blend Dockworker Hat - Moss
Product Details & Description
Cashmere & Lambswool blend dockworker hat.
Made in collaboration with Pilgrim Surf + Supply.

Non-mulesed, humanely sourced Wool from Japan.

Short fit hat with rolled up brim.
Style is based off of a vintage Navy watch cap.
Great for colder weather conditions.
Wool yarns regulate body temperature keeping you warmer in the cold and cooler in the heat, wicking away sweat and moisture.
Wool naturally traps odors caused by bacteria keeping you fresher longer.
Wool is fire resistant and typically smolders. Compared to acrylic, polys, and

 

nylons, that catch fire and also melt in high temperature conditions, making this hat idea for working around fires and camping.
Wool is biodegradable! Just an added bonus for the products life cycle.
FSC certified recycled hang-tag and recycled / recyclable poly bag.

5% Cashmere, 75% Lambswool, 20% nylon & elastane.

One Size.
Give them a stretch! If the hat feels too tight at first, it's because we use a special high-quality elastic yarn to improve the hat's retention value. At Druthers, we always disliked buying beanies only to have them blown out and misshapen after only 1 season. To solve that, we have sourced a high quality elastic yarn that will improve the products life cycle as well allow the hat to keep its shape for longer. Not more elastane per hat, just better yarns. Druthers highly believes that a key element to sustainability is a long lasting product!