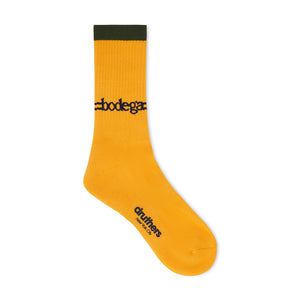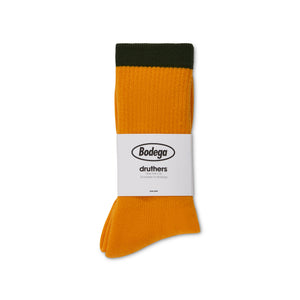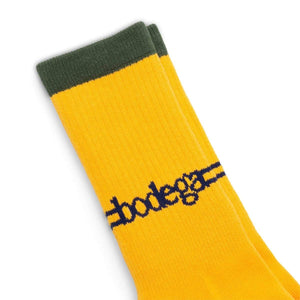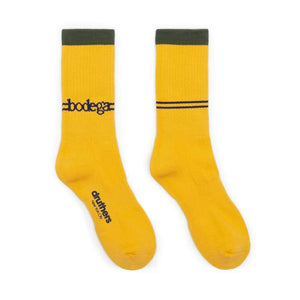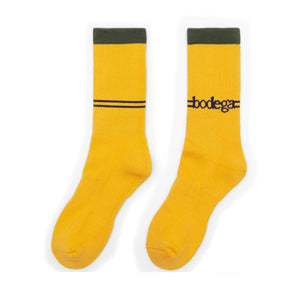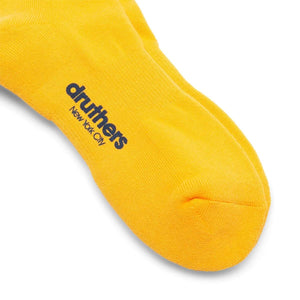 Bodega Everyday Organic Logo Crew Sock - Yellow
Product Details & Description
The Bodega Autumn/Winter '21: Delivery #02 is steeped in comfort, tradition, and nostalgia. Its pursuit is to restore that feeling of unrepentant mirth of our youth. You know, snot-nosed, galloping through the neighborhood, with the sweet sound of laughter and the crunch of autumn's foliage beneath our feet. 
Heed some advice: don't skimp on your socks and underwear, your feet and the other regions of your body deserve the absolute best. That's why we decided to collaborate with Druthers to bring you a comfy sock that utilizes recycled and sustainable materials. Oh, and looks damn good too. 
Designed and made in collaboration with Bodega.
Organic cotton yarn made in Japan.
1x1 compression rib at the arch of the foot and the ankle for improved support and fit.
Rib stops the sock from moving around on the foot to improve the life span on the sock.
Super soft! Terry pile purl side for extra comfort.
9" Crew length.
92% organic cotton, 8% polyester elastane for retention and product longevity.
Mid weight yarn. Great for sneakers and boots.
Manufactured in Japan.
One Size / Mens US 7.5 - 12.5
This product is considered a Quickstrike (QS). All QS, limited edition, and brand collaboration products are final sale.